Stationary Sound: In a continuing effort to offer quality products (not found at the local hobby shop) to our model railroading customers, New England Custom Rail has been experimenting with what we refer to as a "Stationary Sound" module. Unlike the recent move to install mobile sound and DCC decoders at the factory by most of the major manufacturers, "Stationary Sound" has been around for a long time. It has been around for years but it has never gone main stream with the majority of model railroading hobbyist. Part of the reason for its lack of popularity in the past has been cost. Pre packaged generalized sound systems were large, bulky and expensive. One that we ourselves have used in years past was the SoundMaster 210 from MRC. It is a generalized system costing over $200 plus extras for additional speakers and a mobile sound board which installed into a cattle car.
What we found, and are using today is an inexpensive board that can be loaded with a selected sound. The unit is known as "Innovative Train Technology HQ Series Sound Module". A single inexpensive sound board can be bought for under $30. So if you have a brook or waterfall, or have children playing or have a barnyard on your layout you can now add an appropriate background sound effect at a very reasonable price.
Typical of New England Custom Rail's approach to product evaluation we are using the product ourselves. We have package ITTC sound modules into what we refer to as a Rail Sounds unit which is a complete ready to use unit that only needs the power and speaker connected. As some of our customers are aware we have built a number of HO scale modules that are sometimes displayed with the Hub Division's module group (of the NER of the NMRA). To add anything to a traveling module is more difficult than adding something to your home layout simply because you need to make it more rugged. This hard packaging addresses the frequency of connecting and disconnecting items and the bouncing around a traveling module gets when being transported from one place to another. We have found that exhibiting with a group is probably the toughest test environment you can have for a product. It has to perform for hours at a time without causing a single problem; otherwise it will get turned off or be uninstalled. Another issue is that it must be easy to use; if it is complicated it will not survive the many different users it will be faced with in the club environment. So we are now testing three of these units at train shows starting this show season (2004/2005). We had one of our test units running at the Hub Divisions Spring Show at our vendor tables.
<![if !vml]>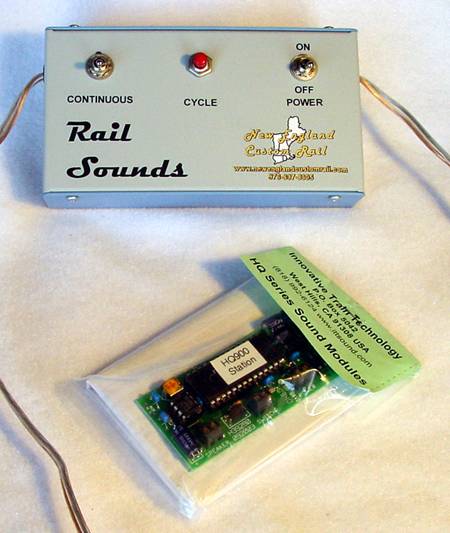 <![endif]>
We will offer the basic stand alone board for $29.95 (+ local taxes). We may also offer a pre built Rail Sounds control box (sound unit included) depending on requests. This is the more rugged packaging we are using when we mount a sound unit in one of our modules being displayed with the Hub Division Module Group at shows.
Currently we will have a library of 84 sound files available for you to hear at our vendor tables or on this website. We will also have a selection of sound units available for you to purchase. Any sound that we do not have or is sold out of can be order and shipped within a short time period (2 weeks or less). So come by and tell us what you would like to hear. Custom sounds can be recorded and programmed as well. So the only limit will be your imagination. We here at New England Custom Rail look forward to hearing from you.
© Copyright 1999-2007 NECR. All rights reserved. Designed by NECR

Site last updated 01/17/2007