Working with Brass
<![if !vml]>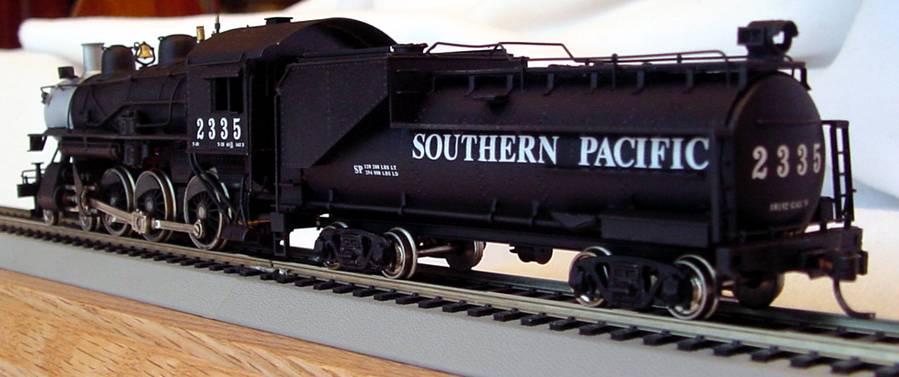 <![endif]>
This is a segment of the hobby that is not for everyone. At one time collectors assumed that all brass appreciates and that it is a good financial investment. While it is true that some brass does appreciate it is not generally considered a good financial investment in todayís market. Today the brass pieces that are imported are expensive and pre-sold and the level of detail is no longer significantly better from a detail standpoint than some of the better plastic RTR (ready to run) pieces that are available today. Another fact is that the plastic RTR piece will almost always run better than the brass. However there are cases where the only available engine (or car) of a particular prototype is only available in brass or not at all. It may also be true that the last time it was imported was over thirty years ago. The only way to find one of these pieces is by checking with dealers of used brass or finding one in a private collection that has come up for sale or finding one on the internet.
The problem with buying old brass off the internet is getting a piece at a fair price and knowing what that price is. The picture you see above started out as a well used tarnished brass unpainted engine bought off the internet in an ďas isĒ condition. In this case it was well used and worn to the point that the motor had excessive play and would jam at startup or direction change. Basically it didnít run. The collector who bought it initially wanted it painted and decaled, later on he decided to also have it rebuilt. Because of the tarnish and old factory coatings the first step was to carefully clean away the old finish before prepping the engine for a coat of gray primer. What this customer finally decided was he wanted custom paint and decals plus the performance of a new engine from an old worn out unit. It is possible but it does cost to have a shop do all that work. Most local hobby shops do not do this kind of work in house anymore, but usually will refer their customer to a custom shop where the specialized tools and skills are available.
The question is how much do you want to do and/or how much do you want to pay for someone else to do it. Part of the fun of this hobby is in your ability to create a unique piece for your enjoyment and that of others. But if time is something you have precious little of then having it done by a qualified shop may be your only real option. This rest of this article will give you some general idea of the steps and the costs associated with restoring electrically and mechanically an older brass engine and will be discussed in terms of a steam engine which is usually the worst case scenario.
The first step is to test the running condition of the unit. If everything runs fine then there is nothing more for this step. However it did take about fifteen minutes, or one quarter of the hourly rate for just this initial test. If it is just plain dead then it should be checked with meters to see if it is a short or a no pickup condition. If there is any sort of problem then the engine will need to be separated from the tender and retested to see if it is an electrical problem with the tender? (Note: With old steam, the engine usually picks up only one rails worth of power and the tender picks up the second rails power.) If there is still a problem with the engine then it will require taking it apart and working to identify the problem(s) one at a time. You may want to agree to a limit of say two hours after which the shop needs to tell you what they have found before you authorize any additional time and charges. At this point it could take an hour or several hours or even days depending what is found. So you could easily spend over $100 (for two to three hours) just to find out that the motor or gears or axle bearings are worn out. Or that the unit shorts out electrically because of loose tolerances of the worn parts. Once the problems have been identified a realistic estimate of the cost to repair can be generated. Before this point any estimate would be just plain guess work and could be off by significant amounts.
The next steps depend on what was found to be the problem(s). In the case of the engine pictured above, it had both gear and motor problems. The recommendations were to either paint and decal the unit and keep it as a static display model, or re-gear, re-motor, paint and decal the unit so that it would run as good as or better than new. The customer chose the second option but he had a good estimate to make his choice with. Bottom line it cost close to $400 to do the work authorized. This could easily have been higher ($150 to $200) if the user had asked to have both of the lights made functional and a DCC decoder installed.
The question you have to ask yourself is do you want to have the work done. If the answer is yes then an understanding of the hours and skill that are required will go a long way to not being surprised by the cost and helping you find a qualified shop for your restoration work.