What does it Cost to do a Custom Engine or Car?
This is a question we here at New England Custom Rail get asked all the time for which there is no simple answer. Some of the decisions a customer must make, which contribute to the final pricing of a custom engine, are the following:
Is the customer supplying the engine or car?

Is the engine or car undecorated, or does it have to be paint stripped?

Does the frame have to be painted?

How many colors and painting operations will be involved? (This needs to include a primer base coat and a clear sealer coat for the final product.)

Do decals for this engine or car already exist, or do custom decals have to be created?

Are we painting to an existing paint scheme or do we have to design one?

Is the customer supplying the initial artwork?

How many decals will need to be applied? (Complex or simple applications?)

Is there an additional market for any custom decals?

Does the customer want detailing done as well as painting?

How many detail parts will be required?

Will there be additional electrical work?

Does the unit require a DCC installation?

Will sound be added?
As you can see there are a lot of answers the customer must have to allow us to give them an estimated price. If it is known that custom decals will need to be generated then a significant amount of non-recurring work will need to be done to create the original artwork needed to create the decals. This can be done but it does take time and it does cost money.
To help you better understand the process we follow here at New England Custom Rail let us now look at each of these issues.
If the customer supplies the engine, then there is the shipping and insurance cost which the customer must pay. It is usually cheaper for us to find the unit than the cost of shipping and insurance. Insurance is strongly recommended when shipping to New England Custom Rail and is required when the item is shipped back to the customer from New England Custom Rail If the item is to be procured for the customer by New England Custom Rail, (as a rule of thumb) plan for the pricing to be what you would find in the Walthers catalogue, which we use, for reference purposes. If the item is not in production and has to be found, then there is an additional small fee of $45 for the location service being provided.
If the engine or car is not an undecorated unit and has to be paint stripped, there is a fee for stripping the shell (HO scale) and if necessary an additional fee for stripping the frame (due to electrical work which needs to be done before the stripping can be performed). This work is done on an hourly basis and will depend on the complexity of the pieces involved. The other option is to do a "paint over". That is to paint the unit with a coat of primer over the existing paint scheme. In reality this is what many railroads do which is why you can sometimes see ghost images of prior markings under an existing paint job when looking at an actual engine or car. It is a very expensive and time consuming process to sand blast a full size engine or car. So sometimes a railroad will skip this process especially if the existing paint job looks good and shows no rust. For the purposes of discussion within this document we are going to use an undecorated Atlas engine which we will custom paint and decal and detail for PLRR # 1186 of the Hobo R. R. of Lincoln New Hampshire.
At this point all we have is an undecorated engine. Next we need to know how the unit is to be painted. Let's say you are requesting a paint scheme used by a particular prototype. Pictures or drawings of that particular engine will need to be acquired and supplied. For example, see the following photos which were used to generate the Hobo Railroad's 1186.

click photo to enlarge
Side view required showing stripe placement, lettering styles and paint scheme.

click photo to enlarge
This photo required to be used to generate Cab logo decal.

click photo to enlarge
This photo shows rear cab detail and lettering.

click photo to enlarge
Shows details of horn, exhaust stack, and decal placement.

click photo to enlarge
Shows additional details of nose area.
All of these photos were required for just one version of one particular engine. You may need less depending on the prototype you choose or you might need more. Your prototype might be documented in a book or magazine. The source of items is not important, the quality is. The better the quality the better the final product will be in approximating the prototype.
As you can see from the photos above, this particular engine has two major colors in its paint scheme of maroon and black. The silver of the stripes will be done as a decal and as such will not be counted as a paint scheme color. If the striping were to be painted then the cost would go up due to the complex masking operations that would be necessary. For this engine the decal is the way to go. The yellow of the steps and handrails and grab irons, which would be part of any detailing if requested and not a paint scheme color. In general a single color paint scheme is $45, a two-color scheme is between $60 and $80 and a three-color scheme is between $70 and $110. The variation would be due to complexity of the masking required for the particular paint job. Fancy complex stripes could drive a paint job into the range of over $450. Any paint scheme more complicated than three colors would be a special quote.
For this particular engine the decals did not exist. So, if it took approximately 10+ hours to generate the artwork necessary to print the decals for that single engine (in that form), then the customer will be responsible for the whole amount. If New England Custom Rail does see a market for additional sales of a particular prototype and is given permission by any copyright owner, then the customer will not be required to pay the total cost for this special work (currently $45/hr). The HOBO prototype required a decal set, which looked like the following sample. It also includes two additional version of the same engine. (Please note the sample below is missing the four "Danger 600 Volts" decals and white and yellow frame markers that were added to the final decal set. You will also note that additional decals were generated for the engines prior history)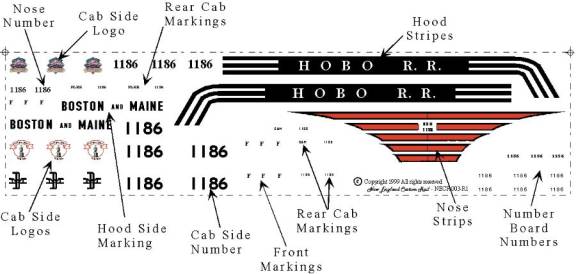 Decal application costs are pretty straightforward, they are based on a labor rate of $45/hr.
What adds to the standard time estimate is when the application becomes complex. For example where a decal needs to be snugged down over complex cast body details (example the radiator grill work on an Alco S4 shell), the additional application of decal setting solution takes additional time. This makes estimating much more difficult.
Now if commercial decals are available the cost for the decals could be as little as $5. If not, it could go as high as $350 to $400 for a single engine, if no additional sales are anticipated. What is hard to tell someone is how much work is required to generate the artwork, especially if we do not have the photos in front of us. If what the customer is requesting, turns out to be mostly text, then the cost to create the artwork and a set of decals could be as little as $50.
If the customer can supply computer generated artwork to scale, then the time it will take and the cost will be significantly less. If no additional work is required a single page of decals can be printed for $50. If metallic gold or silver is required then the single page cost is $60. If multiple units can be supported from a single page then the cost gets spread across all of those units. The biggest part of the cost is the one time cost associated with the creation of any original graphic artwork.
The next big unknown has to do with whether or not the customer wants detailing done and then to what level. If they want twenty to thirty detail parts added, the cost is significantly greater than if they just want some hand painting of step edges and grab irons and Kadee couplers added. Here again we use the Walthers catalogue as a guide for parts pricing. In addition, the labor associated with the installation of any part can, in general, be estimated by tripling the parts cost. For example, if a bell cost $3 then an installation charge of around $9 would be in the ballpark for the installation of the painted part. There certainly are exceptions depending on the part. For example, the snowplow on the HOBO model only cost around $4. However, the installation is around $53 because it requires grinding the metal pilot area of the frame and then drilling the pilot for mounting holes and filing the back of the plow for it to fit properly and then getting a special long coupler to mount it properly, then painting the modified frame and the parts the appropriate colors.
To summarize the process we follow here at New England Custom Rail is as follows: we normally discuss a project with a potential customer making sure we understand their wants. Then we might generate a drawing of what believe the finished project would look like. Once we have agreement on these particulars we then formulate an estimated price. If the customer agrees then we ask for a deposit of 50% of the project cost before booking the project. Once booked, we then look at our scheduling and give the customer an estimated date.
Hopefully this document gives you a little better idea of what goes into determining what it takes to answer the question "What does it cost?" Custom work does cost significantly more than "Ready to Run" mass produced units that you can buy at the local hobby shop. But if you have graduated to collecting unique museum quality pieces that function as good as they look, then give us a call or send us a request. We feel that the custom units we produce will give you years of enjoyment and become the centerpieces of your model train collection. Please remember that what we produce here are limited production custom units for customers. We do not build units for inventory. So when you place an order we can only estimate how long it may take based on the complexity of your project and the other work that has been booked at the time of your deposit.